Student Profiles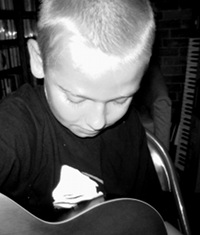 Sean Kasserra
Sean began lessons on September 11th of 2012.
Right off the bat, Sean showed a strong interest in learning, and quickly picked up songs to play around the campfire in summer.

Songs like, "The Other Day I Saw a Bear," "There Was an Old Woman Who Swallowed a Spider," and "There's a Hole in the Bottom of the Sea," have been the focus of our lesson time and he has picked things up quickly.

This year he has started listening to more music, and we've added pop songs to his repertoire, like "Yellow Submarine," Nickleback, "If I Had a $1000000", etc.

He's built up quite a list of chords he knows, and we're chipping away at some theory too!

Great job, Sean.
Songs Goals Lesson Notes Practice Journal Receipts
If this is your profile, you may request a username and password to view notes, payments, and other information.
Login
Instruments
Various Songs
Eye of the Tiger