Student Profiles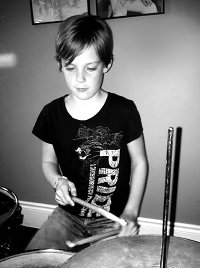 Sophia Beckwith
Sophia began lessons on October 11th of 2012.
Sophia started out with an interest in guitar when she was about 7 years old, but it wasn't long before she discovered a passion for playing the drums. She has a natural sense of time, and has quickly picked up a number of different beat styles.
Later she decided to move to piano, and we have recorded a few songs where she is singing and playing.
Songs Goals Lesson Notes Practice Journal Receipts
If this is your profile, you may request a username and password to view notes, payments, and other information.
Login
Instruments
Piano
Drums
Bass
Vocals
Ukelele
Stay With Me
Titanium